News
THE PRIME MINISTER VISITS LERIBE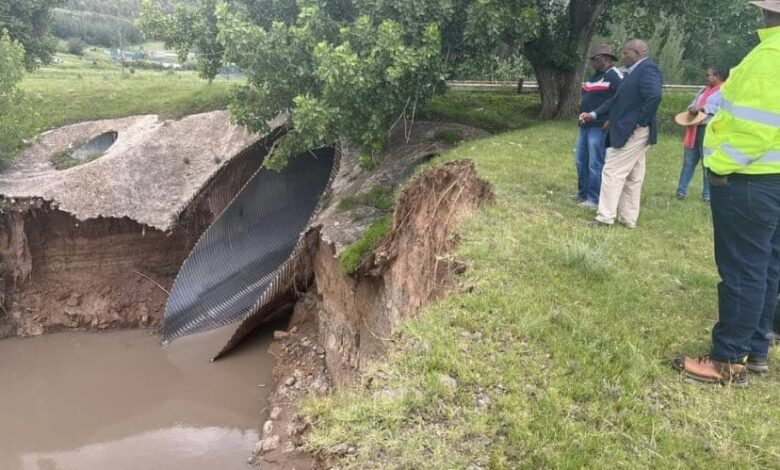 The Prime Minister, Mr Ntsokoane Samuel Matekane on Monday visited Likocheng, Khanyane, and Peka in the Leribe district to inspect gravel roads and footbridges which have been destroyed by heavy rainfalls.
This was revealed by the Prime Minister's Press Attaché Mr. Thapelo Mabote in an interview with LENA, where he said the Prime Minister was accompanied by the Ministers of Public Works and Transport, Mr. Matjato Moteane, the Minister of Local Government, Chieftainship, Home Affairs, and Police, Mr Lebona Lephema and other senior officials from the ministry.
Mr. Mabote said this was not the first time the Prime Minister has embarked on this type of visit as last year he visited one bridge in Matelile, which had caved in due to heavy rains, saying the purpose of this visit was the same thus to assess the damage that was done.
Mr. Mabote added that this is done because the government is about to table its first budget speech to establish how the villagers could be assisted to enable them to continue their day-to-day responsibilities.
He said in order to speed up the maintenance processes, the Prime Minister has instructed the Principal Sectary of the Ministry of Public Works and Transport, Ms. Tšepang Koele to make all necessary arrangements to send yellow plant to the places which have been identified, saying the Principal Secretary of the Ministry of Local Government, Chieftainship, Home Affairs, and Police, Mr. Lefu Manyokele said the ministry is already supplying all necessary equipment for the work to commence.
Also speaking in an interview, Ms. Koele said they requested assistance from the Ministry of Finance and Development Planning as the challenge of caved footbridges and damaged gravel roads has affected the whole country, saying this issue should be handled as an emergency.
In conclusion, Mrs. Koele warned road users about the road sign at Tsoili-Tsoili, in Peka to drive cautiously as there is a donga that seems to be caving near the main road.