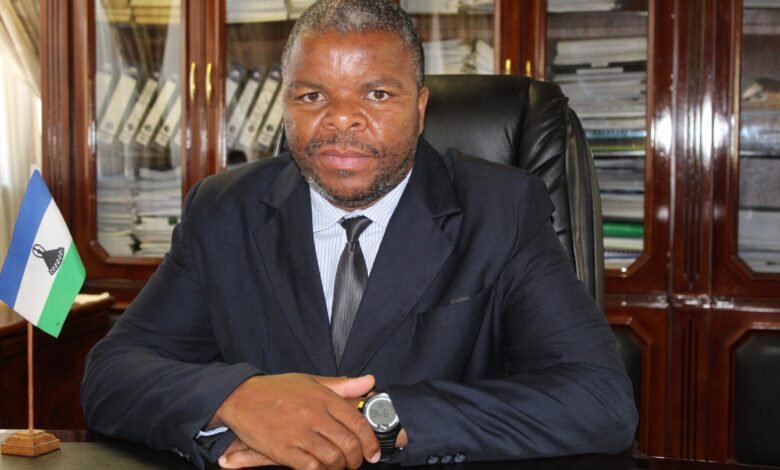 Motlalentoa Letšosa was born on the 18 December 1974, at Litšoeneng, Ha Ntanyele in Mafeteng. He is married and has three children.
He is currently Honourable Minister of Home Affairs. Hon. Motlalentoa Letsosa joined Basotholand Congress Party (BCP) in 1992, Lesotho Congress for Democracy (LCD) in 1997 and then Democratic Congress (DC) in 2012. He contested 2012 general election in Qalabane # 54 Constituency and won under the banner of DC. He contested again in 2015 and came up victorious still under DC banner. He was then appointed as Minister of Law, Constitutional Affairs and Human Rights in March 2015 where he served until November 2016.
In November 2016 he was appointed the Minister of Education and training which position he occupied until June 2017. In January 2019 he was elected as Deputy Leader of Democratic Congress (DC) and won Qalabane Constituency again in 2017 under DC. In May 2020 he was appointed Minister of Home Affairs, the position he holds to date. He attended primary school at Litšoeneng Primary School in 1982 and passed Standard Seven with 1st Class in 1990. He did Form A at Tšakholo High School in 1991 and passed Form C with 2nd Class in 1993. He then passed Form E (COSC) at the same school with 1st Class in 1995
In 1996 he enrolled with the National University of Lesotho (NUL) and obtained Bachelor of Education (BEd) in 2000. He continued his studies with the University of Free State (UFS) in 2002 where he got Masters Degree in Higher Education Studies and Development. He took a specialist course in Proof reading and Copy-Editing offered by South African Writers College (SAWC) where he obtained certificate in 2015.
Hon. Letsosa worked as a teacher at Tšakholo High School from 2000 to 2012; where he was head of English Language Department in 2003 and Deputy Principal in 2010, until 2012, after which he joined politics. He served as a leader in many Non-Governmental Organisations, which include; a founding Committee member of Teachers of English Association (Treasurer) in Mafeteng district, a founding Committee member of Ex-Tšakholo High School Students Association (Chairperson) at NUL Campus.
A founding committee member of the association now known as LEVOSA, Chairperson of Development Studies Teachers Association (DESTA- South), National Committee Chairperson of Student Christian Movement in Lesotho (SCM), a member of Language and Literature society (NUL), member of Christian Council of Lesotho (CCL). His hobbies include reading, soccer and music.